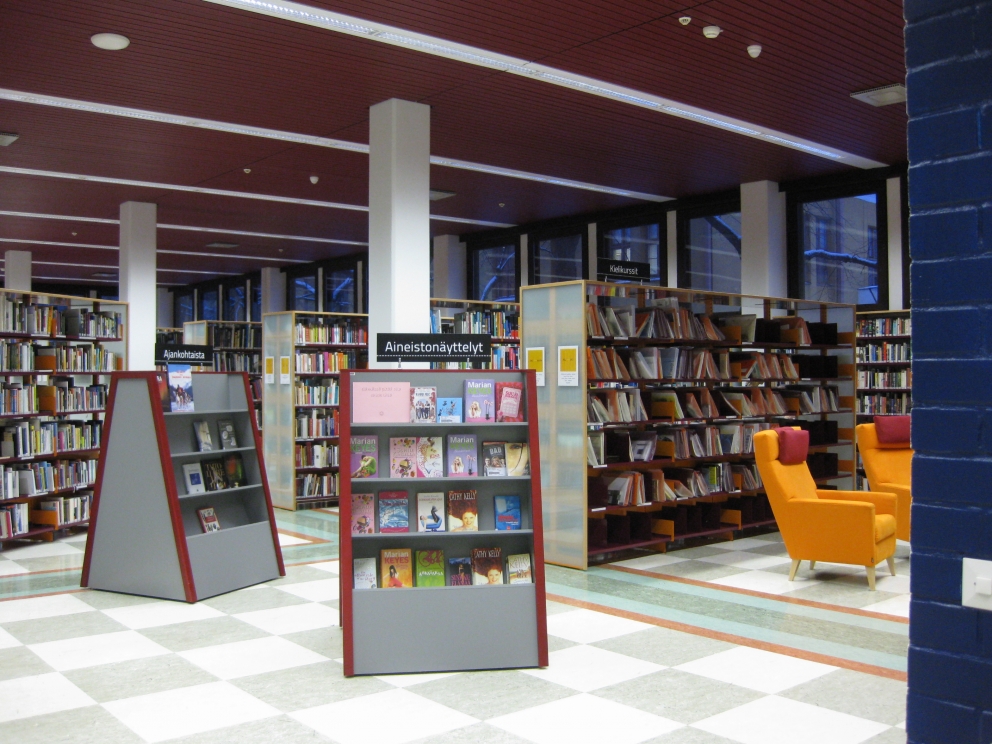 Stories, skills and information for your use
Our Collection
Mikkeli Regional Library's collection consists of about 377 000 pieces. In addition of books there are music materials, movies, audiobooks, magazines, games, electronic materials, language courses and materials for people with special needs.
E-collections
Are you looking for electronic materials (magazines, books, databases) offered by the library?

Information about our collection
Our library has a collection policy (in Finnish only) that describes the collections as well as the selection, storage and deletion of materials. In addition, it provides information on the library collections and their principles to customers, stakeholder groups and decision-makers. You can find information about our collection's selection criteria here.
You can make acquisition proposals to the library. New acquisitions are published in accession lists which can be found in lumme.finna.fi (New Materials).
Books and other materials have been organised on the shelves by classes numbered according to topic. If you are interested in a specific topic, you can check the class number in the Finnish Public Libraries Classification System. On the shelf, the materials are usually arranged in alphabetical order by the author's surname. If the book has an editor or more than three authors, it is alphabetized by the book name.
Information services and reading tips
All our service points provide help and advice on making reservations, searching for materials and using the library or search engines. We can also help you if you are doing independent data searches or need to place an order for an interlibrary loan. We teach information search for groups but if you are searching for data independently, you can find help at this website Information search and databases. You can also send a question to the 'Ask a librarian' remote information service.
You can also ask book recommendations from the library's staff. In addition of quick advices you can request book recommendations for different kinds of groups.
Our collections include:
non-fictive and fictive literature, in Finnish and in other languages
large print books
easy-to-read books
audiobooks and radio plays
language courses
e-books, e-movies, e-music
DVDs and Blu-rays
console games
board games
music, both as records and as sheet-music
items such as basketball, snow shoes
In the adults' department, fiction (84.2) has separate shelves for thriller, science, horror and fantasy fiction, wilderness and war novels, humour, and short stories. If your results in an online library search shows Fantasia for example - it means that the 'home shelf' of the book is the fantasy fiction shelf.
The loan period for course books is two or four weeks. There is no separate shelf for course books; they can be found in non-fiction shelves.
Language courses (recording + book) are grouped as basic, mid- and advanced level packages.
The reference collection at the main library contains essential reference books of different fields, dictionaries, registers, maps, education guides and brochures as well as statistics. As a rule, materials in the reference collection are intended for use within the library premises.